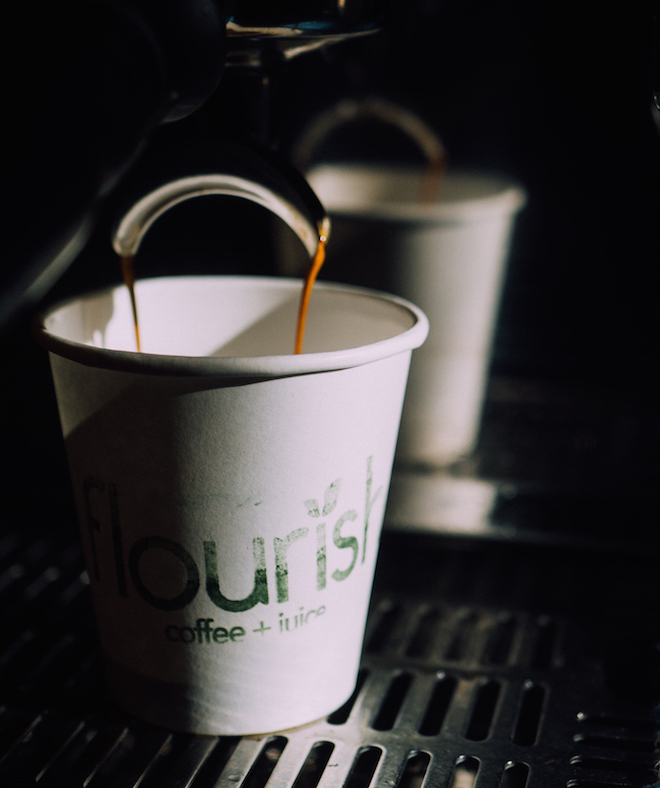 Probably the best coffee in Floreat. These are the reasons why.
Only specialty grade coffee beans are used. They are grown in small lots by independent farmers. We know who they are, what variety of beans they have grown, and what method they have used to remove the red fruit. Our favourite origins are Ethiopia, Kenya, Rwanda, Colombia, Guatemala and Brazil, but we continue to try beans from farmers in other regions from around the world. Whenever we find something amazing we will have it on hand for you to try too.
We use some of the very best craft roasters, from right here in Perth. These craft roasters are as passionate about specialty coffee beans as we are at Flourish. They combine experience, technology and artistic talent to craft roast in small batches, transforming the green bean into a delightful light brown coffee bean that yields the very best body and flavours that the crop has to offer. Each roaster has a distinct style and we love them all. Loaded beans are perfectly balanced for our milky drinks. Mano a Mano beans we use for quirky espresso drinks, while the new kid on the block Twin Peaks have been delivering some seriously good filters and cold brews.
Flourish baristas take pride in every drink we make. We work hard to deliver the full potential of every specialty grown, craft roasted coffee bean, every time. To achieve this means carefully setting up the grinders and espresso machine in the morning, monitoring, cleaning and adjusting constantly throughout the day. Every shot is carefully weighed, and the pour is timed to ± 2 seconds. Over or under-extracted shots are discarded. Milk is steamed to 60 degrees and we use a technique to create micro-bubbles that delivers a smooth, silky texture. If you prefer a hotter drink, or a low-fat milk, or enjoy added sugar, we are happy to oblige so feel free to ask. Last but not least, our equipment is thoroughly cleaned every single day. Jugs are sanitized, steam wands deep cleaned, porta-filters and shower screens dismantled and made spotless.
Speciality Single Origins
For information about our latest seasonal blends, single origins and tasting notes, check out our updates on Instagram and Facebook, our notice board, or just ask the Barista!